Inaugural International Instructor Course in North America
Dear Taekwon-Do enthusiasts,
On behalf of the International Taekwon-Do Federation HQ (ITF HQ) and the International Taekwon-Do Federation HQ-USA (ITF HQ-USA) we would like to formally invite you to our first International Instructor course, hosted by Master Thomas Gordon at Gordon Martial Arts in Crestview Florida April 5-7th. This monumental event is open to any and all International Taekwon-Do Federation practitioners regardless of affiliation.
Come and train with the International Taekwon-Do Federation HQ's North American Regional Director and you'll see why people from all over the world are joining ITF HQ. We will be accepting early registrations as of 2nd Jan 2019. The cost of this event is $229 but if you register before 1st March the cost is only $189. That is a $40 saving! All pre-registered attendees will receive an International Instructor Course t-shirt with all pre-registered attendees names listed on the shirt.
For more information about:
Event, contact Master Munyon as below
Hotel, Venue, etc, Contact Master Gordon at tgordon@gordonmartialarts.com or 850-682-0720
Registration, contact Mrs Tammy Tucker at desk@gordonmartialarts.com or 850-682-0720
Payment can be made via paypal to tgordon@gordonmartialarts.com or use CC and call Mrs Tucker
We look forward to seeing  you in Crestview, Florida and enjoying a weekend of excellent instruction
Respectfully
Master Michael Munyon, VIIth Dan
ITF HQ-USA, North American Regional Representative
ITF HQ-USA, Founder/President
Member, Council Of Masters
Mobile: (989) 820-2556 e-mail: munyonselfdefense@yahoo.com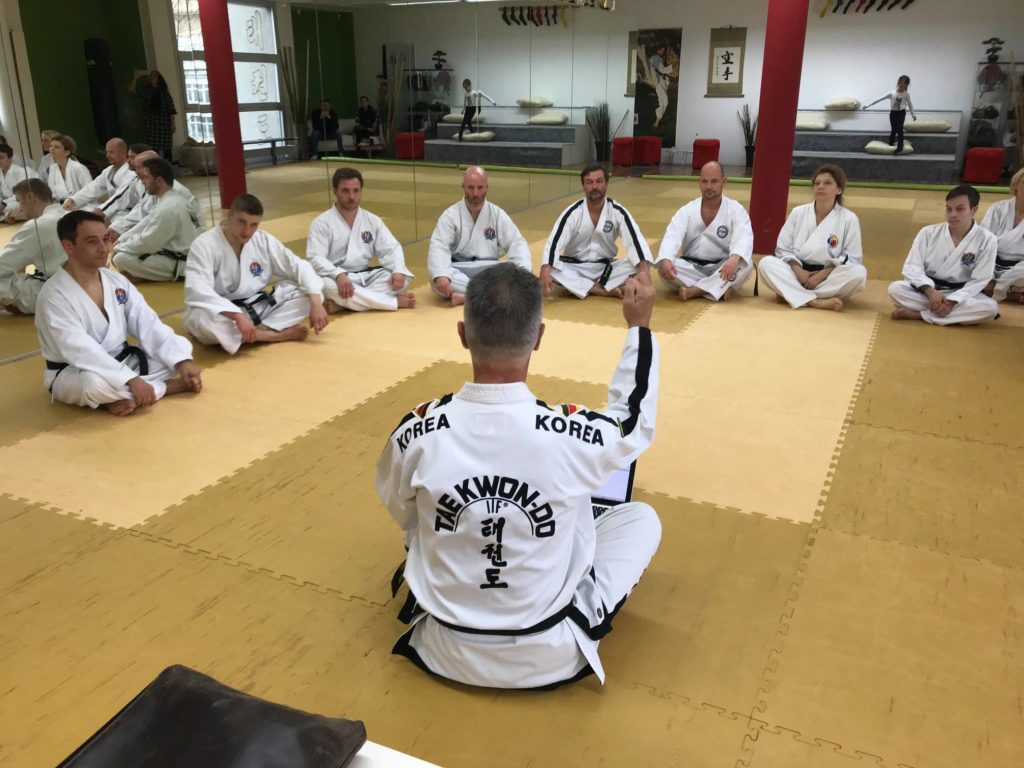 Master Sander Seminar in Switzerland
Master Peter Sanders vice president of ITF HQ Korea – seminar in Zürich, Switzerland.
On Saturday, March 17 2018, Pascal Polatti, Chairman of the Traditional Taekwondo Committee, had the honor to host a seminar held by Master Peter Sanders, 8th Dan Taekwondo, Vice President and Chairman of the Council of Masters ITF HQ Korea in Zürich, Switzerland.
The day was full of highlights! A further Traditional Taekwondo school leader from central Europe has successfully been examined by the ITF HQ Korea to the next level.
The Dan testing of Rudolf Winterstein to VI Dan took place in the morning. He completed his exam under the scrutinizing eyes of Master Sanders and the presence of several black belts, who came to honor him from different locations in Germany.
The focus of the seminar in the afternoon was on self-defense: Master Sanders showed various effective techniques and explained the importance of performing them with speed, precision and intention, according to the principle il kyok pilsal (one strike / one kill). The participants had the opportunity to practice multiple attack and defense strategies, and to practice real life street -fight situations.
Impressed, enthusiastic, sweaty and with a smile on their face, the students practiced diligently during 4 hours.
Another highlight of the day, was when Master Sanders taught the 24. Tul, Tong-Il to the Dojang leaders and School Masters and thus enriched their curriculum with this form.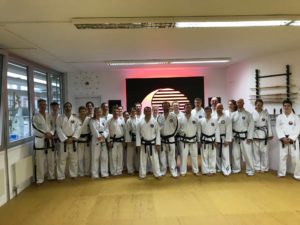 G M Sutherland Appointment
GM Sheena Sutherland has been appointed to the position of Advisor/Mentor to the Council of Masters of ITF HQ Korea.
Her insight and ability make her one of the most qualified instructors and leaders worldwide and her wisdom will help guide our organisation in the future.
We welcome G M Sutherland to the only legitimate ITF in the homeland of Taekwon-Do in this prestigious and important role with the knowledge that she will help to further improve ITF HQ.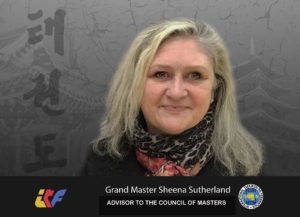 ``Cup of CIS 2018`` in Kazakhstan
CIS 2018 Cup in Kazakhstan
The Kazakhstan National Federation of Traditional Taekwon-Do, member of ITF HQ Korea [Dojang KZ-10051-D] cordially invites Taekwon-Do practitioners to the Open International Tournament " CUP of CIS 2018″ that will be held on 24 – 25, February, 2018 in Astana, Alatau Sports Palace, Tauyelsizdik, 1 Kazakhstan.
The tournament will be conducted in accordance with the rules of the International Taekwon-Do Federation and has the following goals:
popularization and development of Taekwon-do,
increase the level of sportsmanship of leading athletes;
determination of the level of work in the regions of the country;
promotion of a healthy lifestyle, involving children and youth in physical education and sports,
distraction from smoking, alcoholism and drug addiction;
education of tolerant relations between people of different nationalities,
strengthening of interregional and international relations,
Summing up the results of the development of Taekwon-do ITF in Kazakhstan over the past year.
The organizing committee consist of the following members and will provide assistance to all interested participants.
Organizing committee:
Chairman of the Organizing Committee – Abenov Yerlan Zhanbirbaevich
Chief Referee of the tournament – Abenov Nurlan Zhanbirbaevich
Chairman of the Credentials Committee – Hasenova Asel Viktorovna
Chairman of the Executive Committee – Abenova Aliya Kuatbekovna
Member of the Executive Committee – Pagay Anna Yakovlevna
For more detailed information, please contact the organizers via email: taekwondo-astana@mail.ru
WE ARE LOOKING FORWARD TO SEE YOU IN KAZKHSTAN IN FEBRUARY
Invitation for the 2018 Battle of the Bridge Children & Youth Championships
ITF HQ Promotions: Invitation for the 2018 Battle of the Bridge Children & Youth Championships Dear Grand Masters, Masters, Instructors and Taekwon-Do Practitioners, It is our pleasure to invite you and your members to the 2018 Battle of the Bridge Children & Youth Championships. Saturday 24th February 2018. Our event is open to all groups, schools, instructors & students and our international friends. This tournament will see Coloured Belt and Black Belt children and youth, also ages 4 to 6 Pee Wee, and S/N competitors testing their skills in ITF Style Patterns, Sparring, Special Technique. We feel it is an excellent opportunity for Taekwon-do brothers & sisters to come together in the true spirit of Taekwon-Do competition. This year's tournament will be held at Newbridge Leisure Centre, Bridge Street, Newbridge, Gwent NP11 5FE. For the detailed information please contact the Head Tournament organizer Mr Peter Kent-Marrast, the head of ITF HQ Korea Association GB-10057-A on: Mobile: +44 7985 258445 Email: pkm@taekwon-do-wales.com We look forward to seeing you and your members at this event that promotes friendship and good values under the banner of "one spirit – one force – one ITF".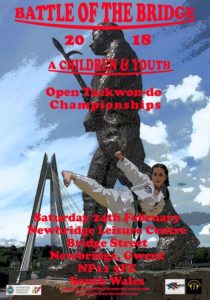 Preparation and Black Belt Testing in Malaysia (ITF HQ Korea)
Preparation and Black Belt Testing in Malaysia (ITF HQ Korea)
Selected Candidates for Black Belt Grading are required to undergo 8-day preparatory training from 20th to 28th December. Training has been conducted at AMAAL Dojang. This exercise emphasizes physical aspects by focusing on stamina and endurance development, the aspect of perfection for patterns, Self Defense and strengths for breaking items.
Training for these candidates has been monitored by senior instructors,mostly 4th Degree so, that the required standard can be achieved.
Relaxing sessions are also available to them by going on rafting and city tours.
The flash mob and demonstrations in the crowd by the candidates in the center of the city were also made to give them confidence.
Centralized Black Belt Grading
The day of the Grading was the 31st December 2017 at the Podium Hall, Ministry of Youth and Sports Malaysia Tower. Although the candidates were ready but they were also nervous for this grading session. The grading session was run with 3 stations simultaneously. The use of "Grading Electronic System" was very helpful and facilitated fair scoring.
All grading scoring requirements have been set as Fitness test, Fundamental techniques, Patterns, Sparring (3,2,1 & Free), Self Defense and Breaking.
Session ended at 6:00 pm with Testimonials and transcription presentations to candidates. Overall all passed and the program was run successfully. CONGRATULATION to all newly awarded candidates.
Tigers LSE program in Korea and ITF HQ
The International Taekwon-Do Federation Headquarters, Korea is pleased to announce that the Tiger Life Skills Education, a children's development program has been officially accepted as the part of the ITF HQ Korea education system offered to children between the age of 2 and 6. The Tiger in Korea is a symbol of the Korean people and Korean culture. It is regarded as a guardian against evil spirits and a sacred creature that brings good luck. It is also a symbol of courage and absolute power. Therefore, we can say with confidence that this program will not only contribute to the greater development of children in Korea and around the world, but will also promote the spirit of Korea and Taekwon-Do
To Members of the ITF all over the World.
It is at this time of the year that we reflect on what has passed.
Since the death of General Choi Hong Hi in 2002, here in the birthplace of Taekwon-Do we have been rebuilding the Art initially established by the Founder.
We organized the first ITF World Championship in Korea in 2004, and subsequently two more in 2008 & 2010 that were held in conjunction with Taekwondo Festivals.
Every year since 2011 we have been bringing Taekwondoists from all of the World to follow in the footsteps of the significant figures and events that are associated with the patterns that are such a core part of Taekwon-Do through our Tul Tour Taekwon-Do & Cultural Training programs.
Consequently, our membership has grown rapidly with many groups and individuals from all styles of Taekwon-Do joining our Federation. We are now establishing our offices in the new Administrative Government Center of Korea, Sejong City.
This exciting development allows us to reinvigorate our training programs and offer Seminars and International Instructor Courses in Korea and around the World. More than 10 Tul Tour Programs have been already organized for 2017 and 2018.
We will hold our first Open World Championships in the wonderful European country of the Netherlands in September 2017. Already many groups that have not been able to participate together in the past have confirmed their attendance.
ITF HQ-Korea is dedicated to bringing together all practitioners who follow the teachings of General Choi Hong Hi under the motto "One spirit – One Force – One ITF" in its homeland.
Blessings to You and Your family over this Holiday Season.
In the true spirit of Taekwon-Do.
Oh Chang Jin
President
International Taekwon-Do Federation, Headquarters Korea.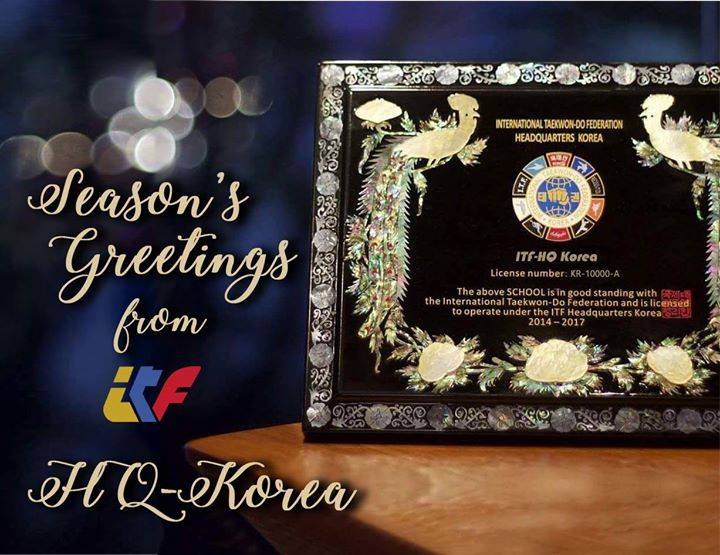 25-DECEMBER 2016 – Order General Choi's Condensed Encyclopedia 1999 Edition
Taekwon-do Condensed Encyclopedia (Hardcover) for $99.00
The 1999 Edition is the last edition printed before General Choi passed away. All other editions after were written or edited by other parties.
Be one of the few in the world who own this prized and rare edition and order a piece of Taekwon-do history today!
Make sure you have an online payment option. Shipping is $20 in Canada, $30 to USA, $60 to all other countries. In USD per book.
If you would like to order multiple copies, be sure to contact us about shipping and handling.  [link]