This is a series of seminars that will be presented by the leading Masters of ITF HQ Korea. The seminars will introduce Korean instructors to the advancements made in ITF Taekwon-Do techniques including the use of biomechanics. They will bring back to the homeland the dynamic martial art that has continued to develop over the last 50 years and allow the next generation of Korean instructors to take the art to their students.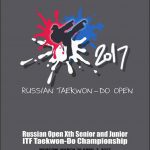 Russian Open Xth Senior and Junior ITF Taekwon-Do Championship Moscow March 31-April 2, 2017. This event will be open to all ITF exponents and will be run using ITF HQ Korea competition rules.
Read more  
The first 2017 Tul Tour Taekwon-Do and Cultural program in the Homeland of Taekwon-Do will take place between 9-16 April 2017 in Korea. The program will be led by Taekwondo Master Ray Gayle, 8th Dan, a former British and European champion and Chairman of the Professional Unification of Martial Arts (PUMA). The main theme of the program is: "Unified Tul Tour Program 2017" and the program will be attended by 22 participants from the United Kingdom.  Master Gayle agreed to open his program to other Taekwon-Do practitioners and there are still places available. Therefore, those who wish to learn ITF patterns in the locations reflecting their origins and experience Korea culture and lifestyle are welcome to contact the organizers via email: korea@itfmail.org
I have great pleasure in inviting you to the OPEN WORLD TAEKWON-DO CHAMPIONSHIPS 2017 – that will be organised by ITF HQ Korea in the Netherlands. We have opened this event to all brothers and sisters in Taekwon-Do. The event will take place in Barneveld, Netherlands at the Veluwehall, from 25th September to 1st October 2017. This is a great opportunity to get in touch with the original Taekwon-Do, understand the real spirit of this special Martial art and meet with many athletes from all over the world. This event will include a Special Needs Taekwon-Do competition allowing these competitors to participate.
Read more