Cup of CIS 2018 in Kazakhstan
The Kazakhstan National Federation of Traditional Taekwon-Do, member of ITF HQ Korea [Dojang KZ-10051-D] cordially invites Taekwon-Do practitioners to the Open International Tournament " CUP of CIS 2018″ that will be held on 24 – 25, February, 2018 in Astana, Alatau Sports Palace, Tauyelsizdik, 1 Kazakhstan.
The tournament will be conducted in accordance with the rules of the International Taekwon-Do Federation and has the following goals:
popularization and development of Taekwon-do,
increase the level of sportsmanship of leading athletes;
determination of the level of work in the regions of the country;
promotion of a healthy lifestyle, involving children and youth in physical education and sports,
distraction from smoking, alcoholism and drug addiction;
education of tolerant relations between people of different nationalities,
strengthening of interregional and international relations,
Summing up the results of the development of Taekwon-do ITF in Kazakhstan over the past year.
The organizing committee consist of the following members and will provide assistance to all interested participants.
Organizing committee:
Chairman of the Organizing Committee – Abenov Yerlan Zhanbirbaevich
Chief Referee of the tournament – Abenov Nurlan Zhanbirbaevich
Chairman of the Credentials Committee – Hasenova Asel Viktorovna
Chairman of the Executive Committee – Abenova Aliya Kuatbekovna
Member of the Executive Committee – Pagay Anna Yakovlevna
For more detailed information, please contact the organizers via email: taekwondo-astana@mail.ru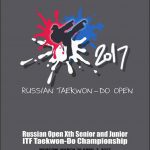 Russian Open Xth Senior and Junior ITF Taekwon-Do Championship Moscow March 31-April 2, 2017. This event will be open to all ITF exponents and will be run using ITF HQ Korea competition rules.
Read more  
The first 2017 Tul Tour Taekwon-Do and Cultural program in the Homeland of Taekwon-Do will take place between 9-16 April 2017 in Korea. The program will be led by Taekwondo Master Ray Gayle, 8th Dan, a former British and European champion and Chairman of the Professional Unification of Martial Arts (PUMA). The main theme of the program is: "Unified Tul Tour Program 2017" and the program will be attended by 22 participants from the United Kingdom.  Master Gayle agreed to open his program to other Taekwon-Do practitioners and there are still places available. Therefore, those who wish to learn ITF patterns in the locations reflecting their origins and experience Korea culture and lifestyle are welcome to contact the organizers via email: korea@itfmail.org
I have great pleasure in inviting you to the OPEN WORLD TAEKWON-DO CHAMPIONSHIPS 2017 – that will be organised by ITF HQ Korea in the Netherlands. We have opened this event to all brothers and sisters in Taekwon-Do. The event will take place in Barneveld, Netherlands at the Veluwehall, from 25th September to 1st October 2017. This is a great opportunity to get in touch with the original Taekwon-Do, understand the real spirit of this special Martial art and meet with many athletes from all over the world. This event will include a Special Needs Taekwon-Do competition allowing these competitors to participate.
Read more