Who can apply
Any dojang, school or association (see at bottom of page for definition) can apply for this type of membership. Each individual in the group will receive their personalised membership card.
Being a part of our global network will give you credibility, support your activities, promote your group and will help your career as martial artists to grow.
ITF Headquarters Korea is the principle authority of the Chang Hun Taekwon-Do movement recognized and closely working with South Korean Government. By joining us, you will become one of our important members and be connected with the Homeland of Taekwon-Do and you will represent us and the Taekwon-Do movement in your country. Together, we will bring this beautiful Art with its great values to everyday life and to every location around the world.
Note that ITF HQ Korea reserves the right to decline a membership application without explanation.
 Once your application is completed, you will receive a white membership card with your identification information. Each dojang/group may choose to receive an "A3" size certificate of membership and a Plaque or either individually. Additionally, you will also have full access to our affiliated networks to enjoy all the benefits of being our group member.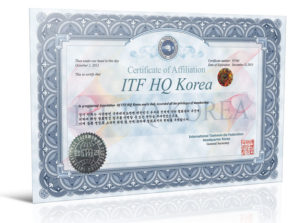 Group membership card for each member
Each member who registers as a part of the group will receive a group membership card with their own information details such as: profile picture, name, expiration date and nationality. Each card will contain on its front side a high quality 3D tamper evident ITF HQ original security holographic seal that provides a high degree of confidence in the authenticity of the card.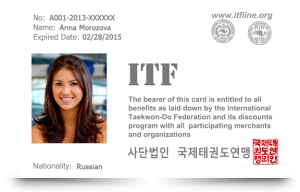 Build Your Global Network
Joining ITF HQ will give you a sense of security and trust. Making connections is critical, and joining associations give you countless opportunities to connect on a local and sometimes even global level.
Enhance your credibility
Associating with the homeland of Taekwon-Do will enhance the credibility of your students not only locally but also internationally.
Become a mentor
Giving back can be the greatest reward and benefit. Participating in forums, specialized mentoring courses, chat groups or discussion boards sponsored by our Federation is also a great way to lead others to success and grow your own network.
Broaden your knowledge
Continuation of education is another benefit available from ITF HQ in many formats such as: training courses (Tul Tour), seminars, meetings, or access to research journals. We also provide scholarships for our members
Levels of group membership
The group membership type is determined by the size of the group and how many dojangs are part of the group, the tables below outline some choices for group membership types.
Ready to join our global Taekwon-Do network?
There are 3 types of Group membership: Dojang, School and Association. Please select the option you prefer when filling in the application form. We will contact you as soon as we receive and review your application and will guide you how to submit the application fee. Note that ITF HQ Korea reserves the right to decline a membership application without explanation.
More information and costs can be found by downloading and reading the Rules and Regulations ITF in Korea 2019-2020 document linked to the right. Please note costs correct at time of Rules are Regulations document published, Every attempt is made to keep these accurate but they may be subject to change.